Challenge:
The challenge faced by Arturo Vasquez, lead custodian, and his team of 20 maintenance technicians and 18 IT department technicians, was to find a way to keep track of the many work orders coming in across schools in different locations at the Alum Rock Union School District . Hand-written work orders for maintenance repair or IT support were often forgotten or misplaced on clipboards in the backseat of pickup trucks. Broken faucets and the likes were left untouched for weeks on end and school administrators were frustrated with submitting multiple work orders that would get lost.
Solution:
Arturo and his team were looking for a simple solution that could keep his maintenance and IT teams organized. He wanted an easy and user-friendly software to keep track of all the work orders coming in from 25 requesters across multiple school locations.
Arturo tried out the free trial of UpKeep and has been hooked ever since. He especially loves how UpKeep gives him more oversight into the work accomplished by his team members.
"Before UpKeep, I had to dig through all this paperwork, or try to remember details from a phone call. With UpKeep, work orders are much easier to keep track. It makes me feel good when I could show my team exactly what work orders are in progress."

- Arturo Vasquez, Lead Maintenance Custodian
Tracking Progress Across Multiple Locations
Arturo uses UpKeep to keep tabs on the progress of work orders across locations. Before using UpKeep, administrators across Arturo's school district were disappointed that equipment needing repairs weren't completed in a timely manner. Arturo had no insight into his team's progress on work orders because of the constant miscommunication.
With UpKeep, Arturo knows exactly what's going on across 24 different school sites in a matter of seconds. He loves how he's able to use UpKeep's work order history and work order progress features to highlight exactly what's going on across different school sites. With UpKeep, he can show administrators and requestors when equipment was fixed, team members assigned to a work order, and keep track of progress. Better insight into team activities empowers Arturo and his team to have stronger ownership over their tasks and activities.
Increasing Efficiency through Historic Records
Before using UpKeep, Arturo and his team lacked clarity into the status of work orders, which led to duplicated tasks. For example, when a maintenance technician was assigned to repair plumbing, the assignment was left in the backseat of a truck. A duplicated work order had been created to fix the task, so by the time the technician arrived, the work order was completed without him knowing.
UpKeep has eased the burdens of miscommunications and repeated work orders by bringing to light exactly what needs to be repaired across different elementary and middle schools. Additionally, it's saved hours of time for Arturo's maintenance team members because they know exactly what work orders have been completed, so they avoid spending time traveling to sites with closed work orders and instead, work on completing new assignments. With more time on his team members' hands, more work is completed for the different schools.
Streamlining Communication through Updates
Before UpKeep, Arturo's team experienced multiple miscommunications around broken utilities, whether it was a broken sink or a light bulb that needed fixing.
Arturo's favorite feature of UpKeep is his ability to update work orders. When he creates a work order for a broken appliance, he updates the status of the work order. This automatically sends an email to school administrators to update them on the status of the work order. For example, when a sink was not working for two weeks, school administrators were wondering about the status of the work order. They simply checked the UpKeep app and learned that the work order was in progress and they were waiting on a pipe. This information helped administrators know exactly the cause for the delay, which improved communication across teams.
Reducing Labor Costs
Arturo downloaded UpKeep for more transparency into his maintenance team's workflow, but he was surprised to experience the added benefit of reduced labor costs. UpKeep provides Arturo's maintenance team with the exact workflow of the day and more work gets done as a result of time saved and efficiency. Since more work can be completed by staff members, the district has saved thousands of dollars in labor and man-hours. Thanks to Arturo's introduction to UpKeep, he has improved spending on behalf of the school district and the savings translate into improved quality of education for students.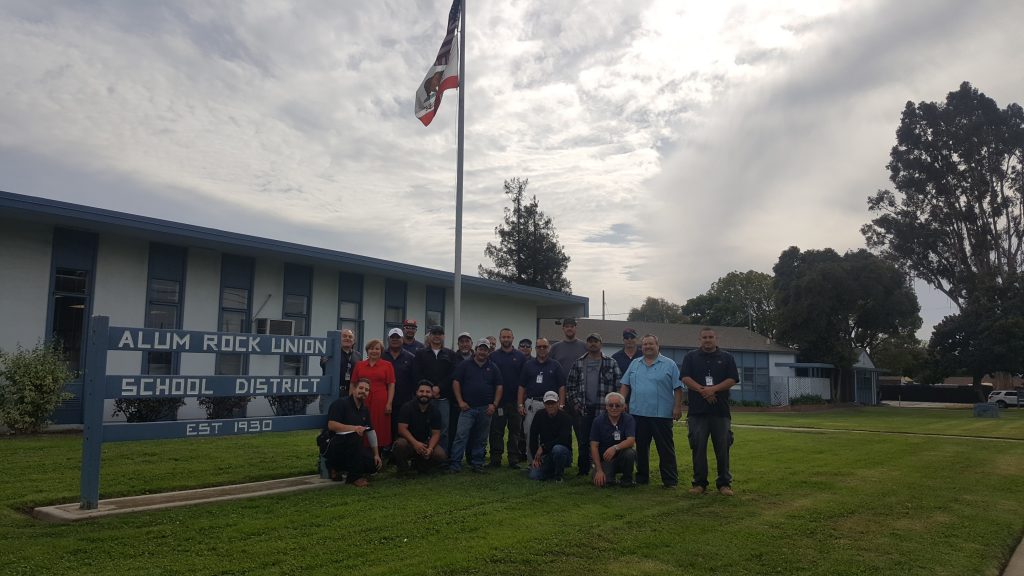 Arturo Vasquez with the maintenance, IT, and staff of Alum Rock Union School District.