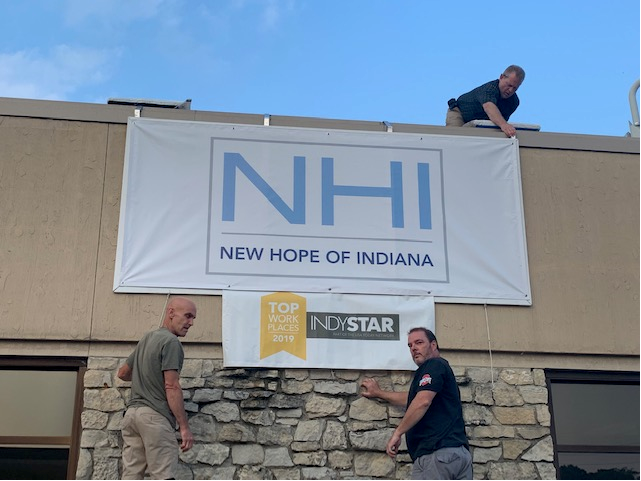 Challenge:
For many years, New Hope organized its maintenance system manually with paper requests and call-in orders. This often led to missing, misplaced, or forgotten work orders. With 50 properties and many employees, it was a challenge to keep communication lines open.
Solution:
When Mike Long started as the facilities and asset coordinator at New Hope at the beginning of 2019, his supervisor had already purchased and began implementing UpKeep. The organization was able to streamline work orders, improve communication between staff and requesters, and boost productivity.
Mike said his team appreciated how simple the solution was to use, as many of the New Hope employees were not extremely comfortable with new technology. UpKeep made it simple to request maintenance work, add comments, and upload pictures.
"With 50 properties, we could easily get 50 work requests or more every day. UpKeep puts the whole process out there in front of everyone so nothing gets missed. It helps keep those who are requesting the work to be done in the loop as well."

- Mike Long, Facilities and Asset Coordinator at New Hope Indiana
Making It Easy To Prioritize
Although New Hope has a core maintenance team of four people, Mike could receive work orders from anyone in the organization. "As far as requesters, that number is almost unlimited," Mike explained. "In essence, every single employee at New Hope can request maintenance work through the UpKeep system. We could theoretically have hundreds of work requests a day if everyone submitted them."
UpKeep helps Mike manage the day's priorities more easily. "It helps me to plan a little bit better because I can look at my schedule and staffing expectations each day," he said. "If something new suddenly comes in that must be a priority, UpKeep allows me to shift things around easily."
Greater Accountability
With dozens of properties and work orders that ranged from fixing minor issues to repairing major problems, it was difficult for New Hope to track work completion and employee performance before UpKeep.
"We know that it's not necessarily the employee who has completed the most work orders that's doing the best job," Mike explained. "We want the work to be done correctly. I could have one maintenance technician that spends all day on one job and still doesn't close it out. That doesn't mean that employee isn't working hard. UpKeep helps us better understand what needs to be done and how much time is required."
"UpKeep does come in handy when we are evaluating employees," he added. Mike has greater transparency and oversight into his team members' workload and can better manage priorities. As a manager, Mike appreciates UpKeep as a tool to have better insights into his maintenance team.
Saved Time and Increased Productivity
Before implementing Upkeep, the New Hope maintenance staff had to stop in the office first thing every morning to pick up their work orders for the day. After they completed the tasks, maintenance team members had to return at the end of the day to manually report progress so the following day could be planned.
With UpKeep, work order assignments, as well as progress and status updates, happen in real-time. Maintenance technicians have visibility into New Hope's system on their laptops or smartphones, making their entire day more productive.
"I'm usually out of the office 70% of the time," Mike explained. "When I get a work request, I can usually approve and assign it within minutes. For our technicians, they don't have to come back to the office an hour early to do paperwork. They are updating work orders as soon as they complete them. That's increased their productivity as well."
More work is accomplished with less time spent commuting to report on the status of work orders. UpKeep allows the maintenance team members of New Hope to focus on what they do best -- sustain and maintain the properties of New Hope, as well as support the incredible individuals within its walls.