What is a work order?
A work order is a formal document (digital or paper) that describes maintenance work approved for execution (i.e., an approved work request). Work requests can be submitted to maintenance by any of their many types of customer, depending on the type of business, industry, and facility being managed.
Work order facts
of facilities use a CMMS to monitor their maintenance
of facilities use a CMMS to monitor their maintenance
Work Orders
aim to provide clear details of work to be performed, and data recorded on work orders allow maintenance to monitor performance
Use of CMMS
to automate the work order process, allowing for ease of job tracking, accessibility, recurrent scheduling, reporting, and closing
Detailed reporting
through automated work orders helps management create dashboards that can be used for performance monitoring and continuous improvement
Work Order Workflow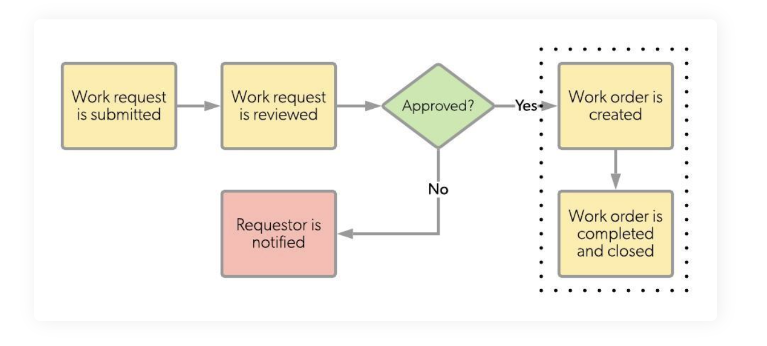 Overview
A maintenance work order is an authorization to perform requested activities on a work request. Depending on the type of business, work requests can be submitted to maintenance by any one of their many types of customers. Once work requests are reviewed and approved by maintenance, an official work order to complete the job is issued.
In addition to the details provided on the work request, the work order also contains key information on how the job will be completed.
Information that appears on a work order includes:
Description of the task or need
Name of requesting department or individual
Estimated completion date
Name of person or team to complete the task (may be in-house resource or third party)
Location of activities (name of facility, or name of area within a facility)
Prerequisites to completing the end goal (e.g. parts, tools, documentation)
The information on a work order is provided with the purpose of explaining the need, scheduling resources, detailing instructions, and estimating costs of parts and labor. Use of a CMMS like UpKeep also enables maintenance to schedule and document recurring work, like monthly routine preventive maintenance activities, and automatically generate and monitor work order data.
Types of work orders
Similar to work requests, work orders can also be classified into different types. Here are some examples of work order categories that are available for use in UpKeep:
Inspection
A test or series of testing to verify functionality or performance of assets, components, and systems
More on Inspection
Preventative maintenance (PMs)
Can include everything from routine cleaning to lubrications as prescribed by manufacturers, required by policies, or dictated by performance
More on Preventative Maintenance
Emergency
Includes work to protect life or loss of expensive asstes (sometimes a work order may not be generated prior to addressing an emergency depending on the criticality and urgency)
More on Emergency Maintenance
Electrical
Can range from repair of current apparatus to new installation of wiring, lighting, and power supplies
Safety
Activities that protect personnel from risk of harm or injury like repair of facilities to prevent trips and falls or chemical cleanups to avoid hazardous materials exposure
Special Project
Includes installation of new assets that may aim to achieve things like increased productivity/efficiency, to modernize operations, or just to replace outdated assets
Example of a work order
In our article about work requests, we stated that a proper workflow is needed in order to effectively manage maintenance tasks. The first step in the workflow is submission and review of work requests by maintenance management. Once work requests are approved, they are converted into work orders.
The illustration below is a simplified maintenance work order flow and the following details show a specific example of how a work order would be used in a fictional food packaging facility, Foodpacker ABC.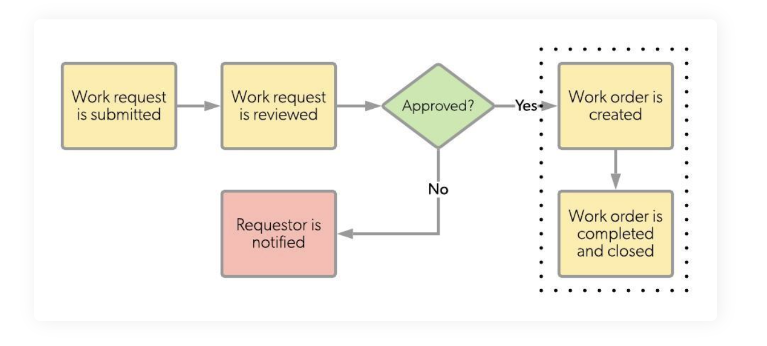 Through UpKeep's CMMS software, Food Packer ABC's production manager submitted a work request to their maintenance team and the maintenance team has now issued a work order to complete the job.
Here is an example of the details on the work order via UpKeep's CMMS:
Title: Install New Food Packing Line
Description: New packing line has been delivered with 12 pallets. They are to be installed in the same processing room as 8 other lines. Some old equipment in the allotted space needs to be moved. Use remaining budget of $3,000 to hire third party movers. Compare physical deliveries to items ordered on purchase order. Put up temporary barrier to protect other packaging lines during installation of new equipment. Approval from quality department is required prior to putting line into service.
Due Date: Eight business days from submission of work request
Recurring Schedule: Not applicable
Estimated Duration: Eight full business days
Priority: High
Category: Special Project
Assigned To: Packaging Engineer
Additional Workers: Electricians, maintenance technicians, warehouse personnel, third party movers
Team: Install Team
Location: Processing Room A
Asset: Food Packing System Line 9
Via UpKeep's CMMS, maintenance is also able to add additional form fields, attach additional files, and require technician signatures. In this example, the production manager is under pressure to get the company's new packing line up and running within one week. The work however, states that it will take longer than that. Also note that in the Description section, several steps are required to be completed prior to actual assembly of equipment. Once tasks are completed, the work order is reviewed and closed out.
How work orders improve maintenance
Work orders are used to track completion of work and document usage of resources whether in the form of labor or parts. The collection of this data enables maintenance to generate clear metrics that can be used for performance monitoring, trend analysis, and continuous improvement. You can read more about maintenance metrics here.
Via the default features of an automated work order management system, an example of a KPI that can be quickly generated is schedule compliance. A maintenance manager would simply view all scheduled work on the Upkeep log and calculate the percentage of scheduled work that was completed over a certain time period.
Free Personalized Product Tour
#1 Software for Maintenance & Facility Management
Learn why UpKeep has more five-star reviews than any other CMMS and Maintenance Software vendor.
Streamline your maintenance and operations team with UpKeep.
Prioritize work orders

with scheduled tasks on the move

Reduce equipment downtime

with preventive maintenance checklists

Increase asset lifespan

with powerful data and metrics

Enhance team communication

with detailed asset histories
Based on 1,485+ reviews on
"Using Upkeep has been an easy process, and it helps keep everything in one place. I also like that our Operations Manager sees everything that I do, from creation of work orders, to updates, and completion of work orders."
Building Administrator
"With UpKeep it's easy to follow and track your work orders and supplies. You can keep everyone updated on where work orders stand and have multiple users so everyone is accountable for their assigned tasks."
Director of Facilities
"Using Upkeep has been an easy process, and it helps keep everything in one place. I also like that our Operations Manager sees everything that I do, from creation of work orders, to updates, and completion of work orders."
Maintenance Technician
1156 Reviews
267 Reviews
365 Reviews